essai|
Nouvelle parution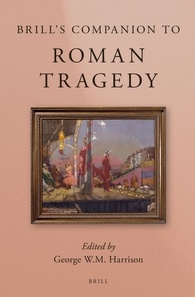 G. W. M. Harrison (éd.), Brill's Companion to Roman Tragedy
George W. M. Harrison (éd.), Brill's Companion to Roman Tragedy, Brill, coll.«Brill's Companion in Classical Studies», 2015.
EAN13: 9789004231597
140.00 EUR
Présentation de l'éditeur
Until the Renaissance the centrality of Roman tragedy in Western society and culture was unchallenged. Studies on Roman Republican tragedy and on Imperial Roman tragedy by the contributors have been directing the gaze of scholarship back to Roman tragedy. This volume has two goals: first, to demonstrate that Republican tragedy had a far more central role in shaping Imperial tragedy than is currently thought, and quite possibly more important than Classical Greek tragedy. Second, the influence of other Roman literary genres on Roman tragedy is greater than has formerly been credited. Studies on von Kleist and Shelley, Eliot and Claus help reconstruct the ancient Roman stage by showing how moderns had thought to change it for contemporary aesthetics.
A propos de l'éditeur
George W.M. Harrison, Ph.D. (1985) Johns Hopkins University, holds a joint appointment in Greek and Roman Studies and in Technology, Society and Environmental Studies at Carleton University (Ottawa). He has spoken and published extensively on Roman imperial tragedy and has been associated with the production of several ancient plays in modern performance.
Table des matières
Introduction: Roman Tragedy at the Intersection: Reception and Response
George W.M. Harrison


Part I: REPUBLIC
Editing Roman (Republican) Tragedy: Challenges and Possible Solutions
Gesine Manuwald, University College London

The Argo Killed Hippolytus: Roman Tragedy in the (Meta-)Theatre
Mario Erasmo, University of Georgia

Roman Tragedy – Ciceronian Tragedy? Cicero's Influence on Our Perception of Republican Roman Tragedy
Petra Schierl, University of Basel

240 BCE and all that: the Romanness of Republican tragedy
Robert Cowan, University of Sydney


PART II: EMPIRE
The editio of Roman Tragedy
Thomas D. Kohn, Wayne State University

Rhetorical Tragedy: The Logic of Decalamation
David Konstan, New York University

Seneca on the Fall of Troy
George W. M. Harrison

Seneca's Thyestes and the Political Tradition in Roman Tragedy
P. J. Davis, University of Tasmania



PART III: INTERCHANGE WITH OTHER GENRES
Epic Elements in Senecan Tragedy
Annette Baertschi, Bryn Mawr College

The Reception of Latin Archaic Tragedy in Ovid's Elegy
Marco Filippi

Roman Tragedy and Philosophy
Christopher Star, Middlebury College

Tragic Rome? Roman Tragedy and the Genre of Tragedy
Lauren Donovan Ginsburg, University of Cincinnati

Roman Tragedy and Philosophy
Christopher Star, Middlebury College

Theatrical Language and Philosophical Issues in Seneca's Tragedies: Cued and Unannounced Entrances (Especially Oedipus 81 and 784)
Jean-Pierre Aygon, University of Tolouse

Roman Tragedy through a Comic Lens
Niall W. Slater, Emory University


PART IV: SENECA AFTER ANTIQUITY
Schlegel, Shelley and the 'Death' of Seneca
Helen Slaney, Oxford University

Seneca Tragicus in the twentieth century: Hugo Claus' adaptations of Oedipus and Thyestes
Betine Van Zyl Smit, University of Nottingham

T.S. Eliot's Seneca
Gregory Staley, University of Maryland

Afterword

A Day at the Races Theatre: The Spectacle of Performance in the Roman Empire
George W.M. Harrison