collectif|
Nouvelle parution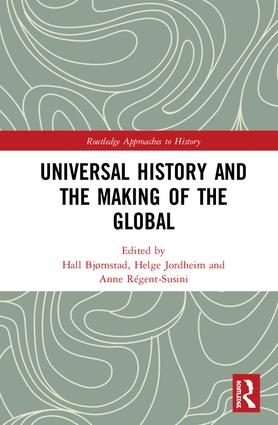 H. Bjørnstad, H. Jordheim, A. Régent-Susini (dir.), Universal History and the Making of the Global
Référence bibliographique :  Hall Bjørnstad, Helge Jordheim, Anne Régent-Susini (dir.), Universal History and the Making of the Global, Routledge, collection "Routledge Approaches to History", 2018.
En explorant l'histoire de l'histoire universelle de la fin du Moyen Âge au début du XIXe siècle, ce livre se propose de retracer la fabrication du « global ». L'histoire universelle de la première modernité peut être envisagée comme une réponse à la crise épistémologique provoquée par des savoirs nouveaux comme par des expériences inédites, face auxquels les récits traditionnels ne semblant plus fournir plus de modèle herméneutique satisfaisant. Inspiré par le développement récent de l'historiographie, ce volume montre que l'histoire universelle fonctionne comme un laboratoire intellectuel et formel, dans lequel s'élaborent des tentatives à la fois diverses, ambitieuses et la plupart du temps inabouties de penser ensemble l'histoire et l'universel. Toutes partagent l'objectif commun de fabriquer un temps et un espace cohérents, d'assembler et d'unifier le monde.
1. Introduction
[Hall Bjørnstad, Helge Jordheim and Anne Régent-Susini]
2. On the History of Universal History
[Gérard Ferreyrolles]
Section I: Past: Universality and Histories
3. The Unity of History in Early Modern Europe
[Zachary Sayre Schiffman]
4. "Even Fables Will Become History": La Popelinière and Universal History at the End of the Sixteenth Century
[Philippe Desan]
5. Experience, Confusion, and History in Bossuet's Discourse on Universal History
[John D. Lyons]  
6. Tocqueville's Democracy in America and the End of History
[Guillaume Ansart]
Section II: Present: Time and Visualization
7. Providential Novelties: Werner Rolevinck's Universal Timelines
[Patricia Clare Ingham]
8. Tattoos and Time: Visual Ethnography and Universal History in A Briefe and True Report of the New Found Land of Virginia (1590)
[Tony Sandset]
9. Histoire de l'œil, œil de l'histoire: Can We See Universal History? About Bossuet's Discourse on Universal History
[Anne Régent-Susini]
10. Making Universal Time: Tools of Synchronization
[Helge Jordheim]
Section III: Future: Pedagogy and Politics
11. Between Providence and Foresight: Bossuet's Discourse on Universal History
[Hall Bjørnstad]
12. Commonplaces and Simple Truths: Ludvig Holberg's Synopsis historiæ universalis (1733) and the Tradition of Textbooks
[Anne Eriksen]
13. Universal History and the Lessons of the French Revolution in Friedrich Schiller
[Johannes Türk]
14. Historicization and Perpetuation of the French Language: A Laboratory of the Universal    
[Hélène Merlin-Kajman]
*
Hall Bjørnstad is Associate Professor of French and Director of Renaissance Studies at Indiana University, Bloomington.
Helge Jordheim is Professor of Cultural Studies, University of Oslo, and Professor II of German, Norwegian University of Science and Technology.
Anne Régent-Susini is Associate Professor at the Université Sorbonne nouvelle (Paris) and a member of Institut Universitaire de France (IUF).