essai|
Nouvelle parution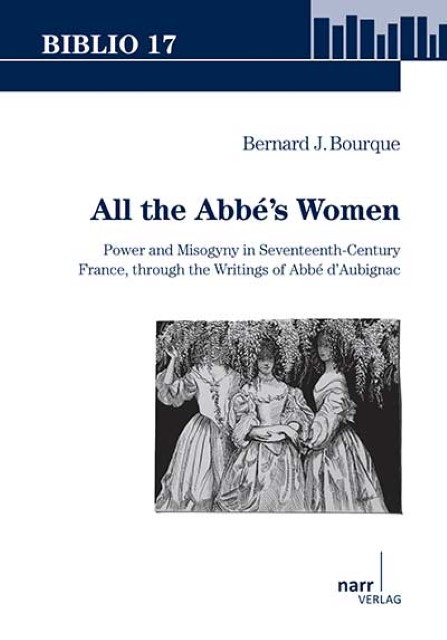 B. J. Bourque, All the Abbé's Women. Power and Misogyny in Seventeenth-Century France, through the Writings of Abbé d'Aubignac
Bernard J. Bourque, All the Abbé's Women. Power and Misogyny in Seventeenth-Century France, through the Writings of Abbé d'Aubignac
Tübingen : Narr Verlag, coll. "Biblio 17 ", 2015.
EAN 9783823369745.
Présentation de l'éditeur :
One of the most striking aspects of abbé d'Aubignac's fictional output is that the principal focus of his work is women. D'Aubignac's attempt to articulate his philosophy about the female sex is very much an intricate balancing act. While he is clearly interested in women, placing them on a pedestal in many of his writings, the abbé imposes limitations on their perceived innate qualities and often embraces the notion of the female as a societal scapegoat. All the Abbé's Women explores how these ideas were influenced by the socio-political conditions of d'Aubignac's time, resulting in a complex interrelationship between the notions of power and misogyny in the author's fictional and critical works. The study also aims to contribute to the scholarship on d'Aubignac, painting a portrait of the abbé that has not been the focus of previous books. The work will appeal to students of French literature, gender studies and the cultural history of Early Modern France.
Adresse : University of New England,School of Arts,Armidale NSW 2351,Australia